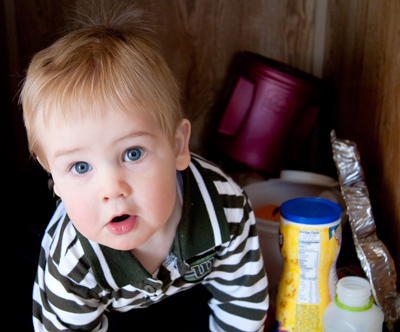 Another week has come and gone.  This one leaves us with an ailing Mommy and Daddy.  I'm just recovering from a 24-hour stomach bug…possibly related to not refridgerating my lunches (I know…I'll do better), and Mom has been fighting what we can only hope is an allergic reaction to the moist pile of flower remains she was playing in earlier this week…back when it was nice.  At any rate, Arden has taken this time to explore his little spaces, just keeping his little self busy.  It's been nice, but sad for us.  It would be so nice if we could take turns not feeling well.  Oh well.
gMa came to visit us on Monday, it's always a great treat to have visitors (and especially visitors who make us food and clean our house :P)  I think she had a nice visit too.  I could tell Arden was excited to be with her, and was upset when she had to leave.  Back to boring ol' Dad.
We've got another tooth!  I haven't been able to strap him down long enough to get a good photo of it, but his bottom right lateral incisor is finally here, finishing his incisors.  I think the canine on that side is starting to come in too. and I've been feeling molar-like bumps on the upper left for quite some time.  Not too long and we'll have a big chomper!
With us being sick, Arden's been trending toward naughty sometimes.  I'm sure he just needs some one-on-one time, but that's not really a great excuse for throwing things at people, hitting stuff off of counters, biting, etc.  I know boys will be boys, and I'm sure I was in that situation at one point myself.  The solution, obviously is to spend time with him, and then he's back to our sweet little angel-face, it's just not always possible.  He's stinker-ey about it too.  There will be times where he'll pose as though he's going to throw a ball at the window, hold it for just a second and smirk at us and then us set it down, knowing victory was his.  If it weren't so destructive when he did let fly, it would be absolutely adorable.
Little secret…it's still absolutely adorable.  That is the essence of children, and especially my Arden-pie.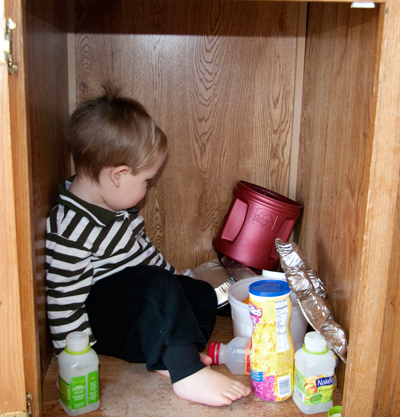 Much love, Dad