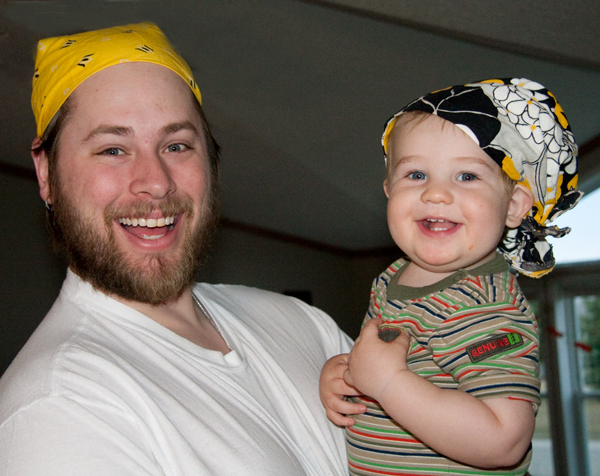 Another week pretty much stuck inside.  I really can't wait for this weather to break and for the nice weather to waltz on in for its short 4 months.  I can tell Arden's got the itch as well.  When I've been coming back from work he's been either staring lustfully out the window or running around the house like a crazy man hoping to burn the rest of his energy before it's time to crash.
Most nights when he sees me come in the door, he squeals, "DADDY!!!!!!!" and comes running though.  That's the best!  He's been very much into his father recently.  In the weekly photos you see that he caught me wearing a bandana around to keep my hair out of my face.  Not exactly high style, but it's practical.  But Arden thinks that's the greatest thing anyone's ever done and for 2 full days wouldn't let his 'hat' off his head for more than a few moments, it was incredibly sweet to see.
The other really neat thing about this week in Ardenland was…I think Tuesday, maybe Wednesday…doesn't really matter.  That day when I came in, he let out the most clear, sharp, "Daddy" I had ever heard.  There was also a different, I want to call it an aura, about him.  He grew up between 8:30 and 5:30.  He's a bigger boy now.  It's nice to see, but a little sad as well…Mommy and Daddy's little bundle is starting to become a boy of his own.  :'(
We have a high chair that's more of an adjustable booster seat with a tray and all that jazz.  From time to time he'll coerce arijem to take it off of the chair it's sitting on now and put it on the floor.  Boy is that the greatest thing in the world.  We've since been looking for Arden-sized chairs, but the only one's we've seen thus far are a good 2-3 inches too tall for him to get into and out of safely.  With the way things are going those will be too small in a few short months too, but I guess that's the way it goes.
My favorite new development has been the patting.  From time to time Arden will come over to me, give me a little hug or a kiss and pat my back several times.  He'll usually then look at me and sigh, "Daddy" or just run off to grab something to throw.  It's extremely sweet, and has really helped me in the past few days.
Winnie the Pooh has been #3 on the Arden Idol list this week.  Arijem and he have been watching the 10-15 minute chapters of the movie gMa and gPa got him.  When he's not watching the movie it's entirely common for him to run around babbling, "pooh pooh" or digging up the Pooh books.  He's gotten very good at identifying Pooh's image no matter where it is, that's also fun to see, but makes me a bit nervous with how early our children are taught the power of branding.
We're heading up to see gMa and gPa for Easter next week, I'm not entirely positive I'll be able to get a post up for then, but I'll try to have most of it written before Saturday.
Until then, keep smiling,
Dad.